How To Have the Best Garage Sale
Have you ever taken a walk or drive around your local community and explored garage sales? The arrays of knickknacks, the clothes, the toys, the collectibles—there's something uniquely appealing about opening up the spring or summer months by exploring the offerings others have made after cleaning out their homes.
If you've never done one yourself, now is your chance to see things from the other side. If your home has started to feel a bit claustrophobic lately, chances are you're probably right. Fortunately, we at Prestige Storage have some good news: By harnessing the power of a well-made garage sale, you can free up some elbow room in your living space and make some fast cash doing so.
Let's walk through how to have a garage sale and price garage sale items in a way that will bring the most out of your old belongings. Need an immediate solution for getting some belongings out of the way instead? Just start a storage unit rental at a Prestige Storage location near you!
Benefits of a Garage Sale
Garage sales are a great way to declutter and make some extra cash. Whether it is an individual or family-run sale, there are plenty of benefits that come with holding a garage sale.
The first benefit of a garage sale is the opportunity to clear out unwanted items from your home without the effort of donating them or tossing them away. It's also an opportunity to find new homes for those items that can still be reused or repurposed. With the money made from selling these items, you can use it to purchase other necessities for your home or even save up for something special.
Additionally, hosting a garage sale can be quite fun and social in nature as well. Want to meet neighbors in a new community? This is a good place to start.
Set a Garage Sale Date
Let's create a deadline. This will be motivation and give you a frame of reference for how long you have to accomplish each task along the way. There's an art to selecting a date (or dates, if you intend to do a weekend or more), as you want it to be close, but not so close you're panicking, and not so far away that you're comfortable procrastinating. As a good rule of thumb (though your mileage may vary), you should give yourself at least two weeks to prepare for a garage sale, but not more than four or five.
How To Price Your Garage Sale Items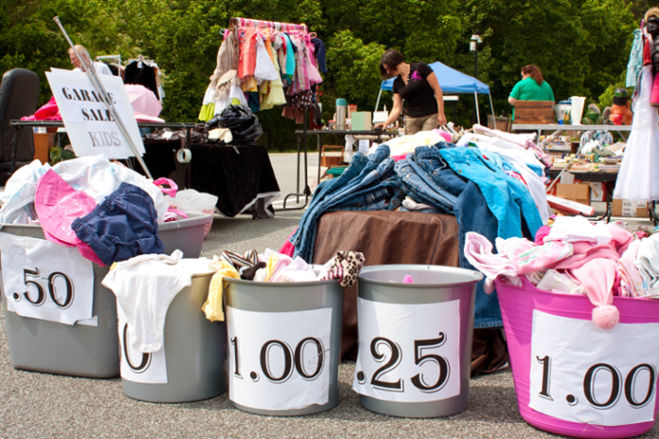 Garage sales are a great way to make some extra cash, but you don't want to go through all this effort only to sell yourself short. Make sure to take some time to ensure you're pricing your sale items correctly.
So how do you price garage sale items? To appropriately price your items, you need to do some research in order to maximize profits. Knowing how to effectively research and price items for a garage sale is central to monetary success (on top of the fact that you're freeing up so much space in the process).
Take some time to inventory your stock and know exactly what you plan on selling. Make sure these items are in good condition and in demand. This will help ensure that they will be more desirable and attract more customers. You can technically put out whatever you want, but with rare exceptions, nobody wants to buy junk or obviously ill-kept belongings.
Research sites like eBay, Craigslist, or Amazon to determine what similar products have gone for recently. This should give you a general idea of how much you should set your prices at, taking into account that yours is not likely new and shouldn't go for the price of something new. Additionally, it's important to factor in any costs associated with cleaning or repairing the item if necessary before pricing it for sale.
What Should I Not Sell at a Garage Sale?
By playing as fairly and honestly as possible, you increase your chances of making more sales and making your life easier once the garage sale is over. Then you'll feel great knowing your items are off to great new homes, and you have a little bit of extra change in your pocket.
Speaking of honesty and safety, what should you not sell at a garage sale? It's important to know what not to sell at a garage sale so that you don't fall victim to any legal or safety issues. Anything dangerous or flammable should be avoided at all costs. This includes hazardous chemicals, explosives, firearms, and anything else that could cause injury if used improperly. Items that require specialized knowledge such as power tools and vehicles should also not be sold because the buyer may not realize the risks associated with their use. Additionally, it is illegal in some areas to sell certain items, such as counterfeit products and recalled items without first checking with authorities for permission.
How To Advertise Garage Sales Effectively
Time to spread the word. Here's how to advertise garage sales in a way that makes you stand out.
Make signs and post them in high-traffic areas like intersections and public parks. Be sure to include an eye-catching headline along with details such as time, place, and what items are being sold. You can also use social media platforms such as Facebook, Twitter, and Instagram to create ads that link directly to your event page or website where people can learn more information.
Additionally, don't forget about local newspapers or Craigslist which both provide great exposure at relatively low costs. A lot of neighborhoods will have designated weeks where the entire community is conducting garage sales, and when this happens, a lot of the marketing will be done by the neighborhood itself. Everyone will know you're more likely to have a garage sale up and that now is the time to jump on whatever sale you're running.
Organizational Tips for Displaying Your Sale Items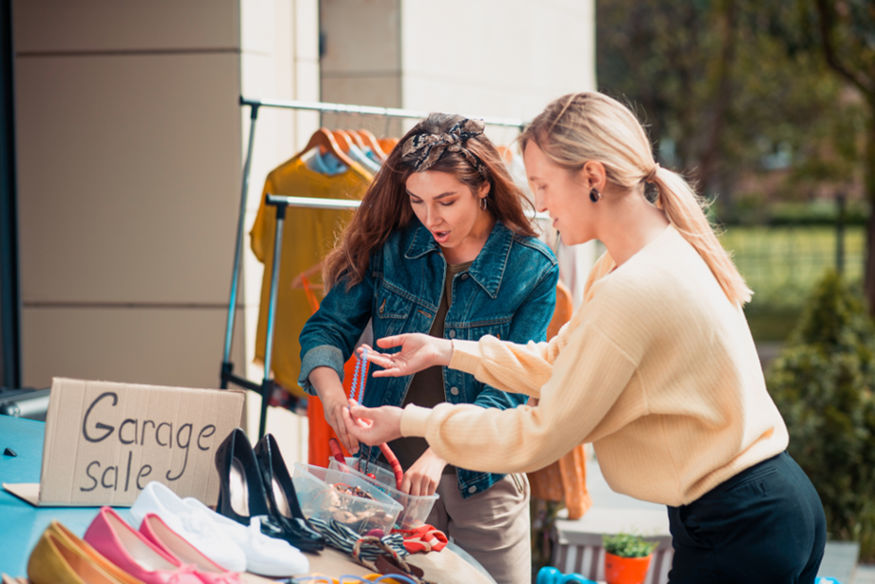 You can help set your garage sale up for success by planning out your space. Here are some key questions to ask and steps to take in order to ensure that your garage sale is organized in a way that is easy and intuitive for visitors.
How much space are you willing to allot to this project? Your garage? Your driveway? First, decide how much space you have available and generally where each item should be located. Make sure all items are clearly labeled with prices so there is no confusion when it comes time for payment.
Arrange items according to type and size. Because we are drawn to colors, you may want to organize your items on a color-coded basis. Create a system of organization in advance by grouping similar items together, like CDs and movies.
Wondering how to display clothes at a garage sale? Keep all your clothes near each other, but consider dividing them up by season or something similar. Stack them neatly on tables or hang them on their own racks.
This will help maximize your space efficiency while also making it easier for customers to browse through all of your offerings without feeling overwhelmed or disorganized.
How a Storage Unit Can Help You on Garage Sale Day and Beyond
After a successful sale, the next challenge is often figuring out what to do with the remaining items. If you've never had a garage sale before, chances are you will not sell everything, unless you only expect to sell a handful of items to begin with.
So what do you do with the leftovers? A clean, sturdy storage unit can help you navigate this tricky situation by providing a place to store your residual belongings until you either decide what to do with them or you're ready for your next big sale.
A storage unit offers a secure and convenient location for storing items from your garage sale. It's an especially ideal solution for those who don't have enough room for large pieces like furniture or appliances. Storing these larger items in your home can be cumbersome and occupy valuable space that could be better used elsewhere.
Prestige Storage Has Your Back
Now that you have a better idea of how to have a garage sale, we want to empower you to do more with less. Prestige Storage is on a mission to grow and expand, so we can provide our top-of-the-line storage service to as many people as possible. With nearly 40 locations outfitted with advanced storage features and industry customer service professionals, we're confident that we can serve you in the way that you need most.
Regardless of how much space you require to make up for the leftover items from your garage sale, we have it. Find our nearest self-storage facility to you to get started, or reach out with any questions you might have about our storage rental process. We'd be honored to help you get settled into your new storage space.
More From