How To Decorate Your Home for the Holidays on a Budget
The winter holidays are a joyous and hectic time of the year. While decorations can look great and help put you in the holiday spirit, decorating your home doesn't have to cost an arm and a leg. There are plenty of cost-friendly decorations you can get for your home to ease up the tension in your wallet and prevent you from acting like Ebenezer Scrooge during the holiday season.
When the time comes for the season to wind down, Prestige Storage is there to keep your decorations safe until winter comes around again.
DIY Holiday Decor
One way to save money on holiday decorations is to make them yourself. From decking the halls to filling the tree, loads of do-it-yourself decorations can be made. Check out the list below to find some DIY home decor for you and your family to try.
Homemade Wreaths
There are numerous ways to create a wreath for the holidays. Whether you want to purchase a simple one from the store and spruce it up with your own decorations or create something uniquely yours, there are dozens of ideas. You could glue cookie cutters or tree ornaments together to make a DIY wreath or grab a macrame ring and cover it with tinsel or pine garland.
DIY Garland
String together some pine cones from your backyard or a local park and hang them around your house. Add some sparkle with glue and glitter, too! You can also make an entire garland with some yarn, a piece of wood, and some scissors. This DIY garland makes the perfect afternoon craft for you and your family!
Paper Crafts
Paper crafts are a great way to spend time with the family and to get creative together. They are also a fun and inexpensive way to decorate your home for the holidays or any other occasion. Here are a couple of paper decorations that look great and are easy to make.
Paper Snowflakes
Get white paper and scissors.
Fold the white paper into a triangle.
Cut out different shapes.
Unfold the paper and hang the unique shapes around your house.
Paper Trees
Get green cardstock and scissors.
Cut various-sized circles out of the paper.
Accordion-fold the circles.
Stack them on top of each other and glue them in place.
Display around your home.
Twig Stars
Another DIY decoration you can add to the outside of your home is a DIY star. If you already have metal stars you display, you can use them as a guide. Gather plenty of twigs and fashion them into a star shape. Zip-tie or glue them together to be sure they hold their position. For additional flair, you can wind lights around them to shine at night.
Repurpose Household and Holiday Supplies
There are so many ways you can reuse items already in your household to make the perfect holiday decor for your home without breaking the bank. With festive plate decorations and unique tree furnishings, you'll certainly enjoy the holiday season. See our ideas below.
Wrapping Paper Scraps
If you've ever wrapped gifts, you have likely ended up with scraps at the end of the paper roll or when you've finished. Those no longer need to go to waste. Grab clear or double-sided tape and attach your wrapping paper scraps to ceramic serving dishes for extra festivity.
Holiday Card Display
Everyone likes to take the holiday season to spread joy through cards they send to friends and family. These holiday cards can make excellent decorations for your home. Display them on your walls or tables or even on a display rack.
Change of Scenery
Wall art is common in most households. You might have decorated your home with photos of friends and family or pictures you think are cool. To add the holiday joy to your walls, print out wintery images or use wrapping paper scraps to replace the photos inside. You could also design some wintery clothing to cut out and add to your family and friends for a touch of holiday cheer.
Tasty Tree Trimmings
Many people consider decorations for their tree to be an unnecessary expense. Once you get all the bits and bobs, you may realize you've spent more than you intended. Instead of getting all the glittery balls and crystal figurines, you could decorate your tree with food! Orange slices, popcorn garland, cranberries, and cinnamon sticks will bring a festive smell and look to your Christmas tree. You should only use these decorations for a day or two to prevent pests and rotting.
Inexpensive Holiday Decor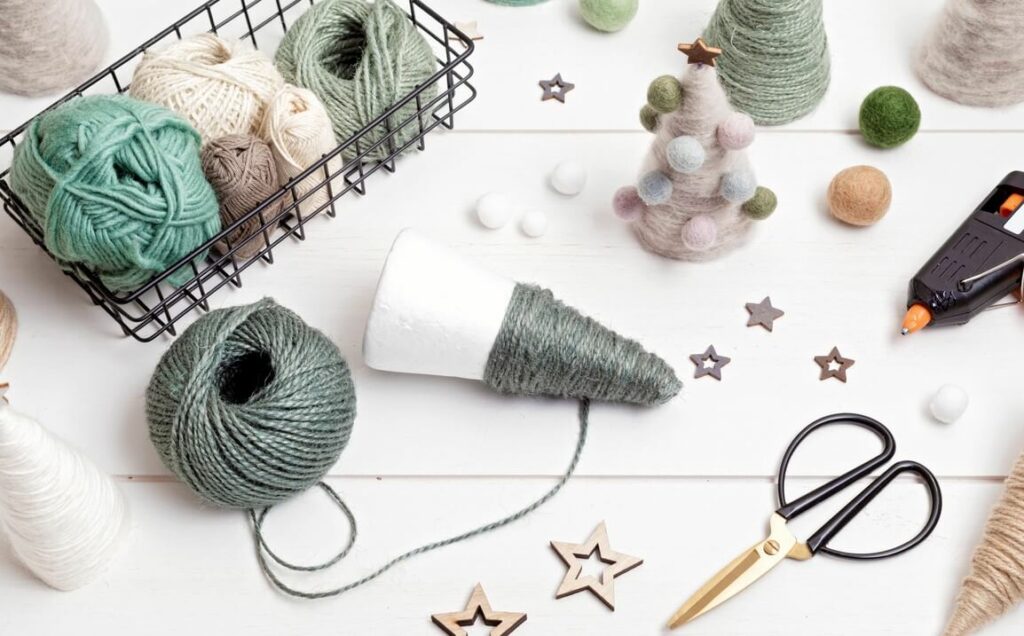 If you aren't feeling crafty this holiday season, there are some options you can purchase that won't leave your wallet hurting. The simple decorations in this article will fill homes with holiday spirit when family and friends visit.
Tree Ornaments
Instead of limiting these beautiful items to just the tree, spread them around your house. Hang them from towel rods, lighting fixtures, or any wall fixture in your home for an additional sparkle to your home. Bulk boxes of these are only a few dollars, so they are budget-friendly.
Tree Alternatives
Purchasing an entire Christmas tree, real or fake, will put quite a dent in your wallet. While fake trees can be used year after year, some still can't justify the cost. Instead, buy a smaller Christmas tree alternative to save a few bucks this year, or even cut a few fresh sprigs from pine trees in your yard.
String Lights
Perfect for displaying inside and outside your home, nothing says the holidays like twinkling lights. While some can be quite expensive, we recommend buying them outside the holiday season to save your budget—you may even get a deal when winter is drawing to a close.
Decorate Your Home for the Holidays With the Help of Prestige Storage
The holiday season should be about the joy of spending time with family and friends. To reduce some of this season's stress, look for unique and creative ways to decorate your home that are also budget-friendly. Remember, a little goes a long way when decorating for the holidays, so have fun and be creative.
And if you make something you truly love, Prestige Storage has plenty of seasonal storage space to keep your decorations safe until winter rolls around again. Rent or reserve your unit today! If you have any questions, check out our FAQ page or contact us directly.
More From